Mae West went to jail for "Sex"
April 27, 2012
Mae West was Sentenced to 10 Days in Prison for Writing, Directing,and Performing in the Broadway Play "Sex"
DAVEN APRIL 19, 2012 2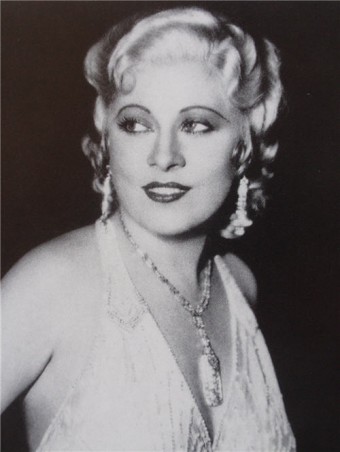 On April 19, 1927, Mae West was sentenced to 10 days in prison and given a $500 fine, charged with "obscenity and corrupting the morals of youth" for writing, under the pen name Jane Mast, directing, and performing in the play Sex. The play was the first written by the 34 year old rising starlet who would soon become one of the highest paid people in America, largely thanks to the notoriety she gained from protests of Sex and her three subsequent plays Drag (later renamed The Pleasure Man for Broadway), a play dealing with homosexuality; Diamond Lil, which established her signature character throughout her later career; and The Constant Sinner, which was shut down after just two performances by the district attorney.   The Pleasure Man ran for only one showing before also being shut down after the cast, including West, were arrested for obscenity, but this time getting off thanks to a hung jury.
In Sex, West played a prostitute named Margie La Monte who was looking to better her situation by finding a well-to-do man to marry.  Before the show was raided in February of 1927 around 325,000 people had come through the turnstiles to see it since its debut in 1926 (37 performances).
While in prison at Welfare Island, West reportedly dined with the Warden and his wife and was released early due to good behavior, something she remarked to reporters afterwards as "…the first time I ever got anything for good behavior.
Despite most of her plays receiving poor reviews by critics, they continued to bill well, thanks in part to the controversy surrounding the subject matter. This soon drew the attention of Hollywood executives.  Despite being 38 years old at the time, around the time most actresses start to wind down their careers, West found herself starting a movie career when Paramount Pictures offered her a contract at $5000 a week ($80,000 now). They also let her re-write her lines in the films, such as in her first film, Night After Night, that set the tone for her persona from her first line where a hat check girl says to her "Goodness, what beautiful diamonds." To which West replied, "Goodness had nothing to do with it, dearie."  Within three years she was the second highest paid person in the United States behind only William Randolph Hearst.